22 Best Sports Cars For Tall People (Updated 2023)
As many tall people can attest, we often look at beautifully crafted sports cars with a wistful longing. Though we may picture ourselves punching it through corners on winding roads, we are burdened with the knowledge that tall people and sports cars just don't play well together.
Whether it's your vision being partially blocked by the roof or your knees bumping into your hands as you try to navigate, fitting a lanky body into a sports car is often a cramped experience that can ruin the excitement and feel of cars that were designed to be felt.
But luckily, select car manufacturers have catered some of their most intriguing and fastest sports cars to fit a vast range of heights, all the way up to the pretty darn tall.
It's good to have a point of reference. Three of the most gargantuan automobiles in production (that just about any tall person will fit into with room to spare), the GMC Yukon, Chevrolet Tahoe, and Chevrolet Suburban, each have the following specs:
Front headroom: 42.8″
Front legroom: 45.3″
Headroom is probably the most important factor to consider, given that it's not adjustable (unless you can lower your seat). Legroom on the other hand usually can be maximized to a respectable length by moving the seat all the way back (you know, the thing you have to do anytime you drive anyone else's car).
In the world of sports cars, we tall folks should be shooting for at least 38 inches of headroom and 42 inches of legroom. You'll want to include both measurements in your decision because increasing one can decrease the other.
As the seat sits higher up, headroom decreases but legroom increases and vice versa. A good rule of thumb for tall drivers is to look for cars that advertise headroom and legroom that adds up to at least 80 inches.
Depending on how the seat adjusts and your body type (leg and torso length) you may have a fit into something that advertises less than 38″ headroom, so long as there is some extra legroom to make up for it.
The only way to know for sure just how well you're going to fit is to get out there on and spend a weekend laying down some rubber (not really, dealerships tend to frown on that) and test driving these speed demons. This list will help point you in the right direction.
Without further delay, here are 14 of the best performing and most sought-after sports cars for tall people.
BMW 3 series
Front Headroom: 38.7″
Front Legroom: 42″
The 3 series is iconic in the world of sports cars but you need to get behind the wheel to truly experience what this car has to offer. Beyond its renowned styling and legendary quality, this series provides driver feedback on the road that transforms driving into an experience. Starting at around 40K, the BMW 3 series continues to outrank its in-class competitors year after year in all-around comparisons.
Kia Stinger
Front Headroom: 38.3″
Front Legroom: 42.6″
Kia has come a long way and the stinger embodies the new Soul of the automaker. Starting at just 33K, the Stinger boasts 255 hp and standard features like a rear camera, blind spot detection, wireless phone charger, and heated front seats. If you opt for the 40K GT version you can get a 365 hp twin-turbo V6 that goes from 0-60 mph in 4.7 seconds.
Tesla Model 3
Front Headroom 40.3″
Front Legroom 42.7″
There's a reason Tesla is so trendy: Their cars are like nothing else on the road. If you haven't felt the instant torque provided by an electric car, you need to. Beyond the unmatched acceleration, sleek styling, and cutting-edge tech, the Model 3 happens to be one of the safest cars on the road. In fact, the Model 3 was found to have the lowest probability of injury of any vehicle ever tested by NHTSA.
Dodge Charger
Front Headroom 38.6″
Front Legroom 41.8″
If you're looking for good old-fashioned American muscle, look no further. The iconic Dodge Charger can be purchased in 6 different trims. If you opt for the cream of the crop, the SRT Hellcat, for around 70K you will be purchasing the fastest and most powerful mass-produced sedan in the world.
Audi RS 5
Front Headroom 39.4″
Front Legroom 41.3″
Going from 0-60 in a sizzling 3.8 seconds and generating 444 hp, the Audi RS5 is a street racer's dream. Standard features include front massage seats and voice activation. Among its most notable features is Quattro® all-wheel drive with sport rear differential – a patented drive system that transfers power between wheels to provide superior handling around corners.
BMW M8 Gran Coupe
Front Headroom 40.6″
Front Legroom 42.1″
According to BMW the M8 is their most luxurious sports car. With 600 HP and a 0-60 of 3 seconds, this sleek and powerful ride starts at $133,000, the second most affordable car in its class, behind the Lexus LC500.
Subaru WRX
Front headroom 39.8″
Front legroom 43.3″
With standard all-wheel drive, the Subaru WRX is known for its excellent handling. Starting at 28K, this is one of the few cars that still comes with a manual transmission. If you want something affordable that can keep pace with high-end sports care around the corners, look no further – Car and Driver noted that WRX places performance above all else.
Lexus RC
Front Headroom 39.0″
Front Legroom 45.4"
Buying a Lexus is always a safe bet if you value reliability. the Lexus RC however goes far beyond reliability. Combining ample amounts of luxury and performance, the RC offers one the best all-around, not to mention most beautiful, sports cars at any price. It just so happens that this gem starts at a reasonable $41,000.
Chevrolet Corvette
Front Headroom 37.9″
Front Legroom 42.8″
Meet the supercar killer. Starting at around 60K the iconic Corvette goes from 0-60 in 2.9 seconds, with a top speed of 194 MPH. The 2020 model has seen a complete overhaul of the design which has been a major crowd-pleaser – to the point that this car was sold out before it was even released.
Volkswagen Golf GTI
Front Headroom 38.4″
Front Legroom 41.2″
If you're looking for something a bit less conspicuous, along with 4 doors and some rear headroom, the Volkswagen Golf is a well-crafted entry-level sports car for tall people. Starting under 30K, the GTI gets above-average gas mileage while offering quick acceleration and responsive handling.
Mini Cooper Countryman
Front Headroom 39.9″
Front Legroom 40.4″
The Mini Cooper is a fun car with a cult following. Starting at around $20K, it's the most affordable car on this list. Though it may look small, the front seats are surprisingly roomy. With lots of options for customization and colors, you can truly make the Mini Cooper yours. Consider this a sneaky good option for sports cars for tall people.
Chevrolet Camaro
Front Headroom 38.5
Front Legroom 43.9
The Camaro is the epitome of American Muscle. With up to 650 Hp available and a starting price of just 25K, the Camaro is no doubt one of the coolest cars on the road. Pulling a solid 8/10 ranking from Car and Driver, this is the car for people who crave performance and style at a bargain.
Ford Mustang
Front Headroom 37.6″
Front Legroom 44.5″
Ford keeps outdoing itself with the Mustang and 2020 is no exception. With gorgeous styling and the performance you've come to expect from Mustang, it's truly unmatched in the world of American muscle. If you want the creme of the crop, the new Shelby GT500 model puts out an insane 760 horsepower making it the best-performing Mustang ever created. Consider it one of the very best sports cars for tall people.
BMW Z4
Front Headroom 38.9″
Front Legroom 42.2″
We end this list with perhaps BMW's most fun and sporty car – the Z4. With an impressive 9/10 rating from Car and Driver, the Z4 comes as a convertible only, with a starting price of around 50K. With a deceptively roomy and quiet cabin, the Z4 will let provide the comfort you want while you're having the fun you need.
Toyota Supra
Headroom: 38.3 in.
Legroom: 42.2 in.
A legend reborn from the ashes of history, the Toyota Supra is a symphony of speed and precision. Its turbocharged heart beats with a rhythm that beckons the thrill-seekers. Every twist, every turn, it's a dance between man and machine, choreographed to perfection.
Lexus LC 500
Headroom: 37.2 in
Legroom: 42.0 inches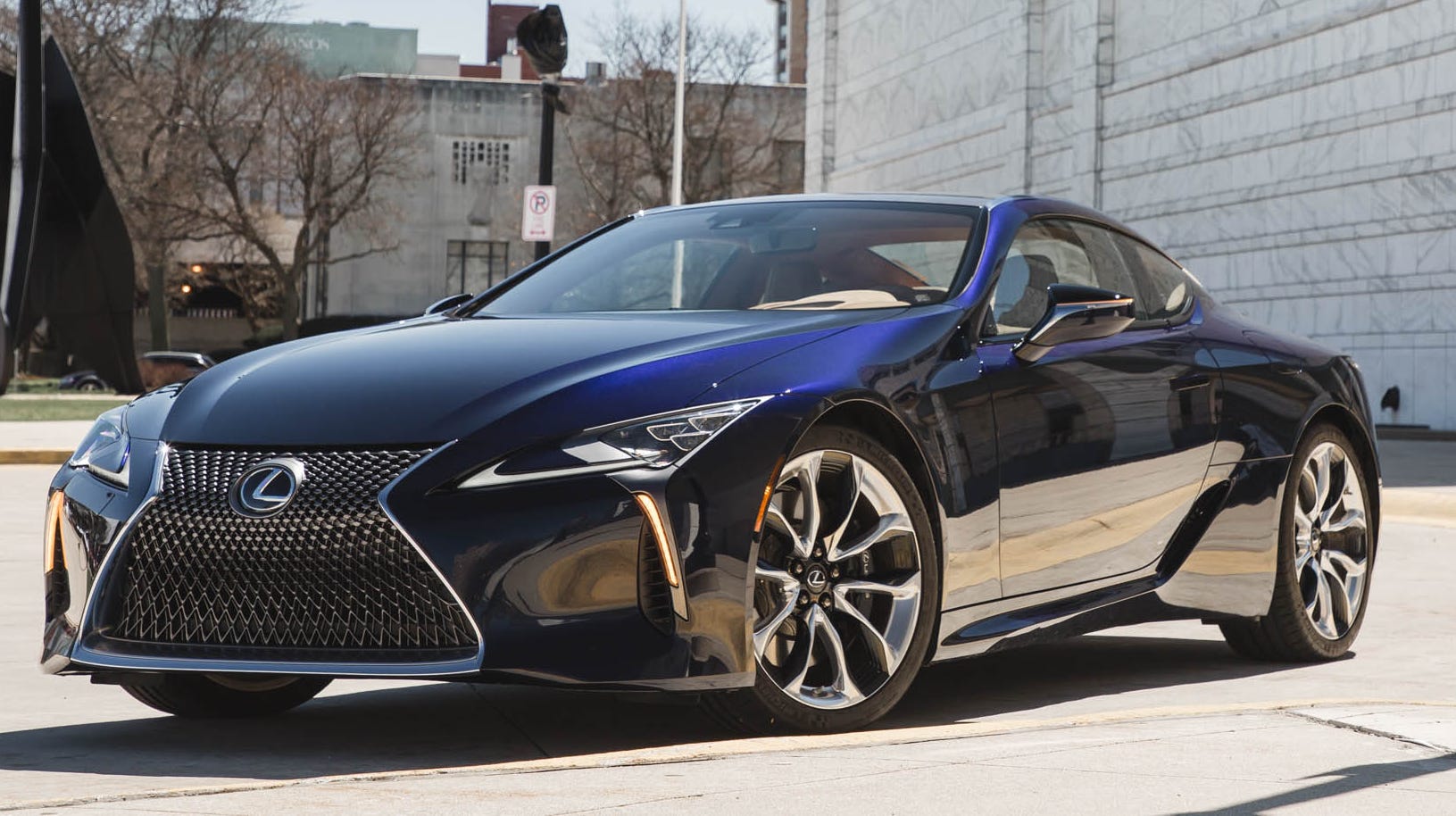 Elegance, power, and a dash of futuristic flair, the Lexus LC 500 is where luxury meets adrenaline. Its V8 sings a melodious tune, while its design turns heads even in the most opulent boulevards. It's not just a car; it's a statement of sophistication and power.
Chevrolet SS
Headroom: 39.0 in
Legroom: 43.9 in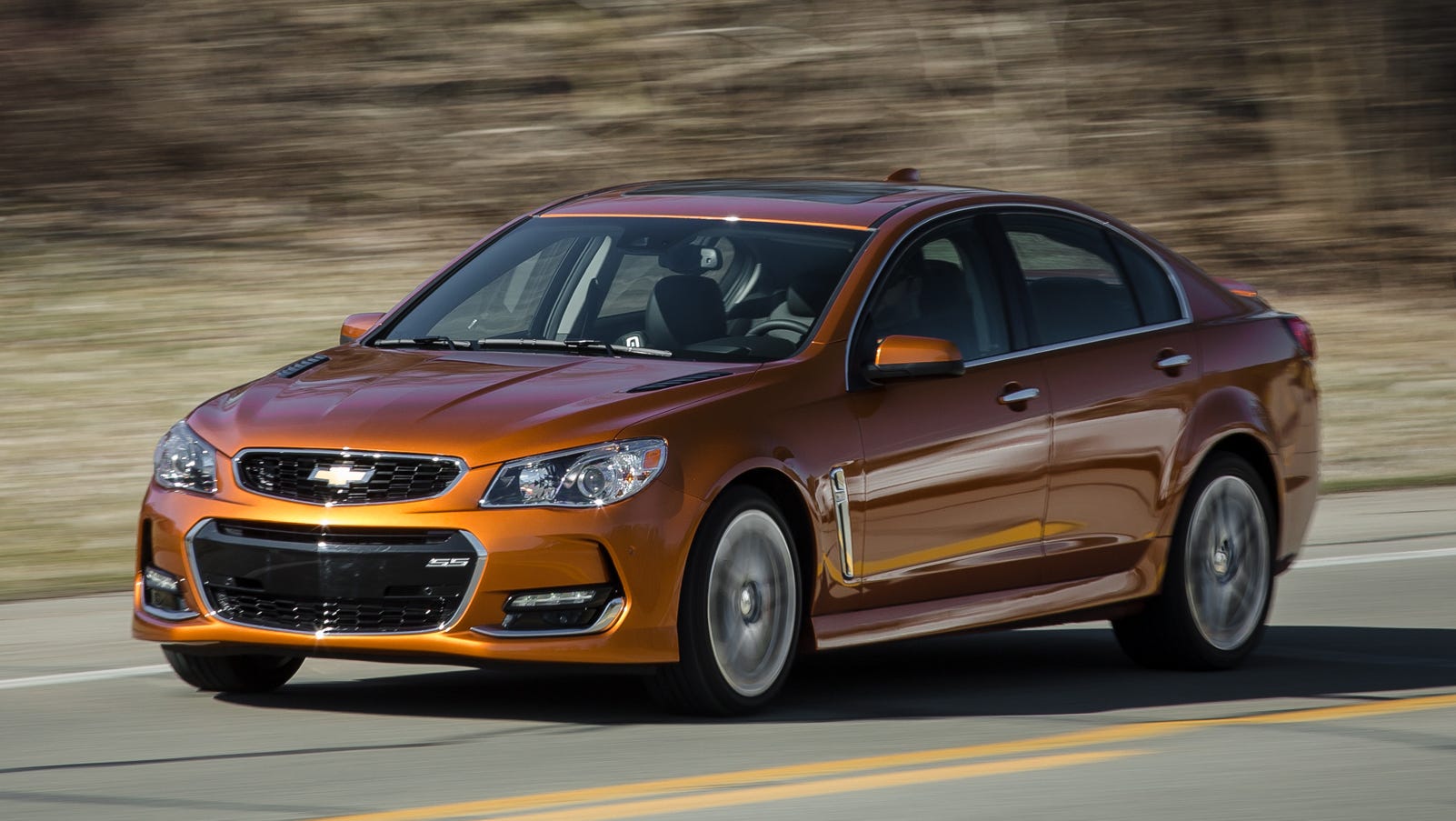 The Chevrolet SS is the unsung hero of the racetrack, a sleeper sedan with the heart of a lion. Beneath its unassuming exterior lies a V8 beast, ready to pounce at a moment's notice. It's the perfect blend of family sedan practicality with a mischievous streak of raw power.
Audi R8
Headroom: 38.5 in
Legroom: 40.9 in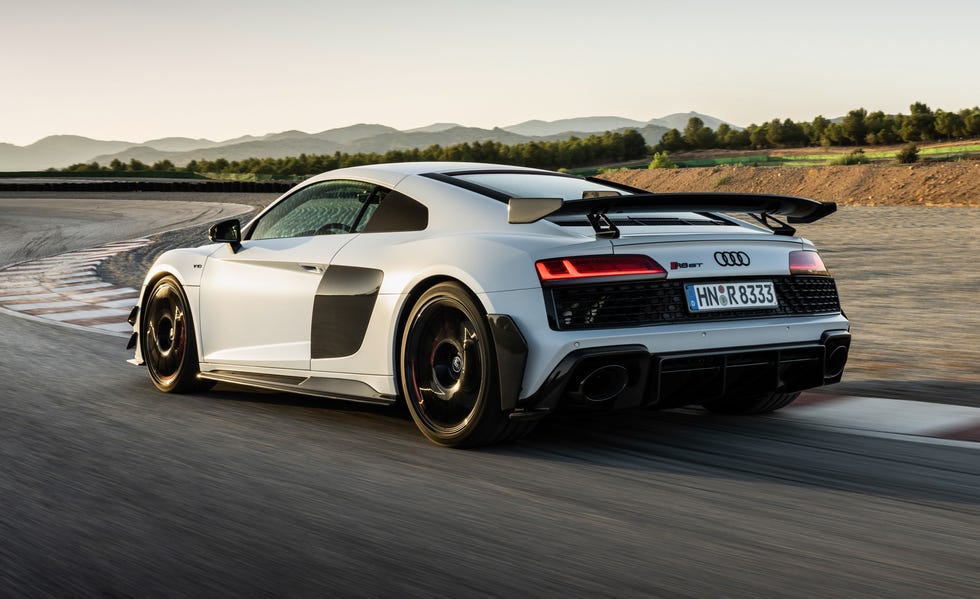 Step into the world of German engineering brilliance with the Audi R8. A mid-engine marvel, it's where precision meets passion, and every drive feels like a rendezvous with destiny. With its Quattro all-wheel drive, it doesn't just conquer roads; it owns them.
Jaguar F-Type
Headroom: 36.82 in
Legroom: 42.83 in

The Jaguar F-Type is British elegance with a wild side. Its roar is unmistakable, a call to those who dare to live on the edge. With its seductive design and exhilarating performance, it's not just a journey; it's an adventure wrapped in luxury.
Cadillac CT-5
Headroom: 39 in
Legroom: 42.4 in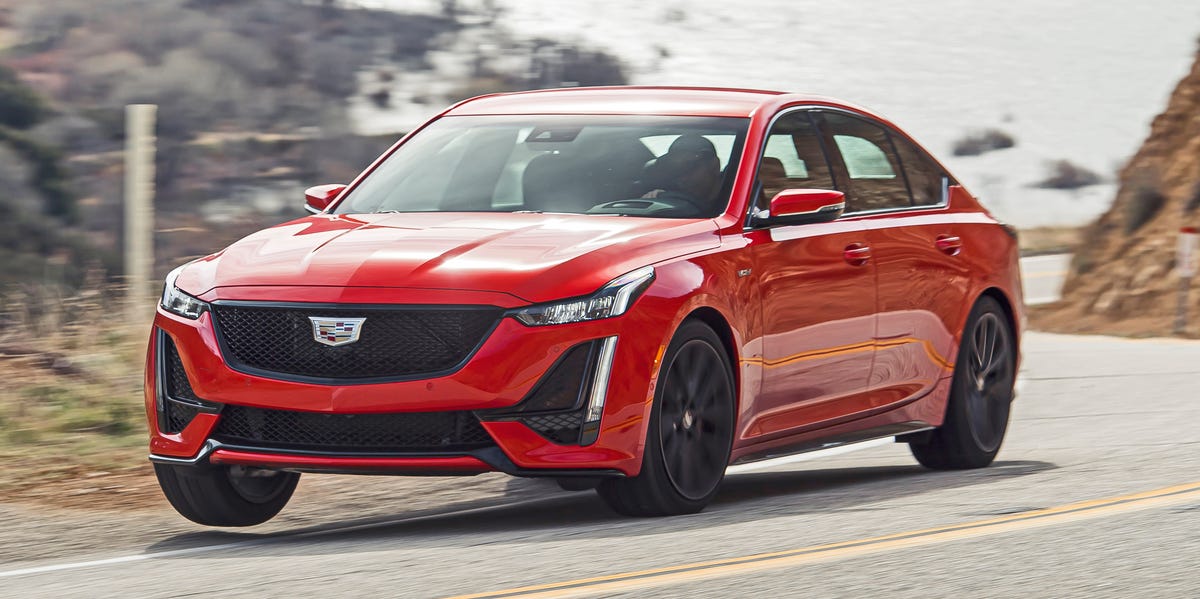 Step into the realm of luxury with the Cadillac CT-5. Merging opulence with power, this sedan is a testament to Cadillac's commitment to excellence. With its refined interiors and commanding presence on the road, the CT-5 is where sophistication meets performance, offering a ride that's as smooth as it is exhilarating.
Toyota GR Corolla
Headroom: 38.3 in
Legroom: 42.0 in
Unleash the thrill with the Toyota GR Corolla, a hatchback that's redefining excitement. Born from Toyota's racing heritage, this car is a blend of agility, power, and style. Whether you're navigating city streets or hitting the open road, the GR Corolla promises an adrenaline-pumping experience with every turn of the ignition.
Volkswagen Golf R
Headroom: 37.8 in
Legroom: 41.2 in
Meet the Volkswagen Golf R, the hatchback that's setting new standards in performance. With its turbocharged engine and sport-tuned suspension, it's a car that's born for the racetrack yet perfectly suited for everyday drives. Dynamic, agile, and packed with tech, the Golf R is a testament to Volkswagen's commitment to driving pleasure.